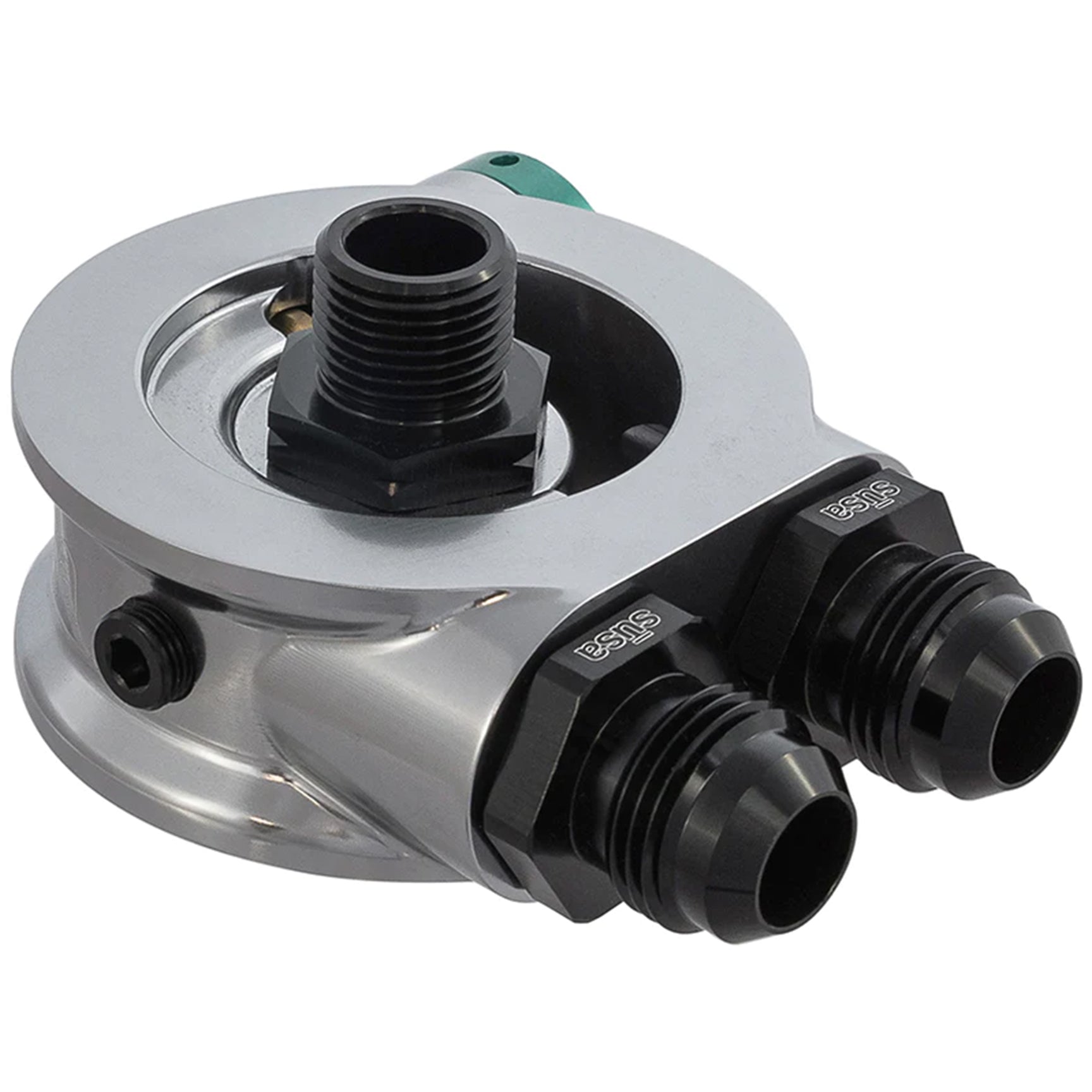 sūsa HyperFlow Billet Sandwich Adapter, 180ºF t-stat
Part No.
19-SPTB76-20-180-22
Built to perform from street to track, the sūsa HyperFlow Billet Sandwich Adapter provides easy oil access for performance oil cooling.
Designed for performance, reliability, and integration with sūsa ProLine adapter fitting system.
CNC-machined billet aluminum body is polished and finished with durable anodizing. Both rugged and lightweight, it's built to deliver on-track performance and ready for any spirited road ahead.
Easily installs between oil filter and oil filter landing for oil cooler installation
CNC-machined billet aluminum construction with durable anodized finish
Quad-seal O-ring for positive seal against filter landing
sūsa's unique self-contained thermostatic oil valve with pressure-relief function provides automatic oil by-pass to minimize warmup time and offer convenience in any setting.
This sandwich-style oil filter adapter is engineered for the high-flow environment of a high-performance wet sump oiling system, easily adapting to –6, –8, –10 when used with sūsa ProLine M22 adapter fittings or direct-port hose ends (sold separately).
High-flow characteristics for high-performance wet-sump oiling systems
Thermostatic oil valve automatically closes by-pass, allowing oil to warm up to operating temperature before sending it to an oil cooler
sūsa ProLine M22 ports for plumbing versatility with ProLine fitting system
( *Please note: the 19-SP76 does not work with -12 or -16 AN adapters. It is not necessary or recommended to use these larger size lines on the pressure side of a wet-sump oiling circuit utilizing and intermediate size spin-on oil filter. )
Description
Part Number
Fitting Port thread
Oil Filter Stem thread
ProLine M22x1.5
M20x1.5
19-SPTB76-20-180-22
M22x1.5
19-SPTB76-22-180-22
3/4"-16
19-SPTB76-34-180-22