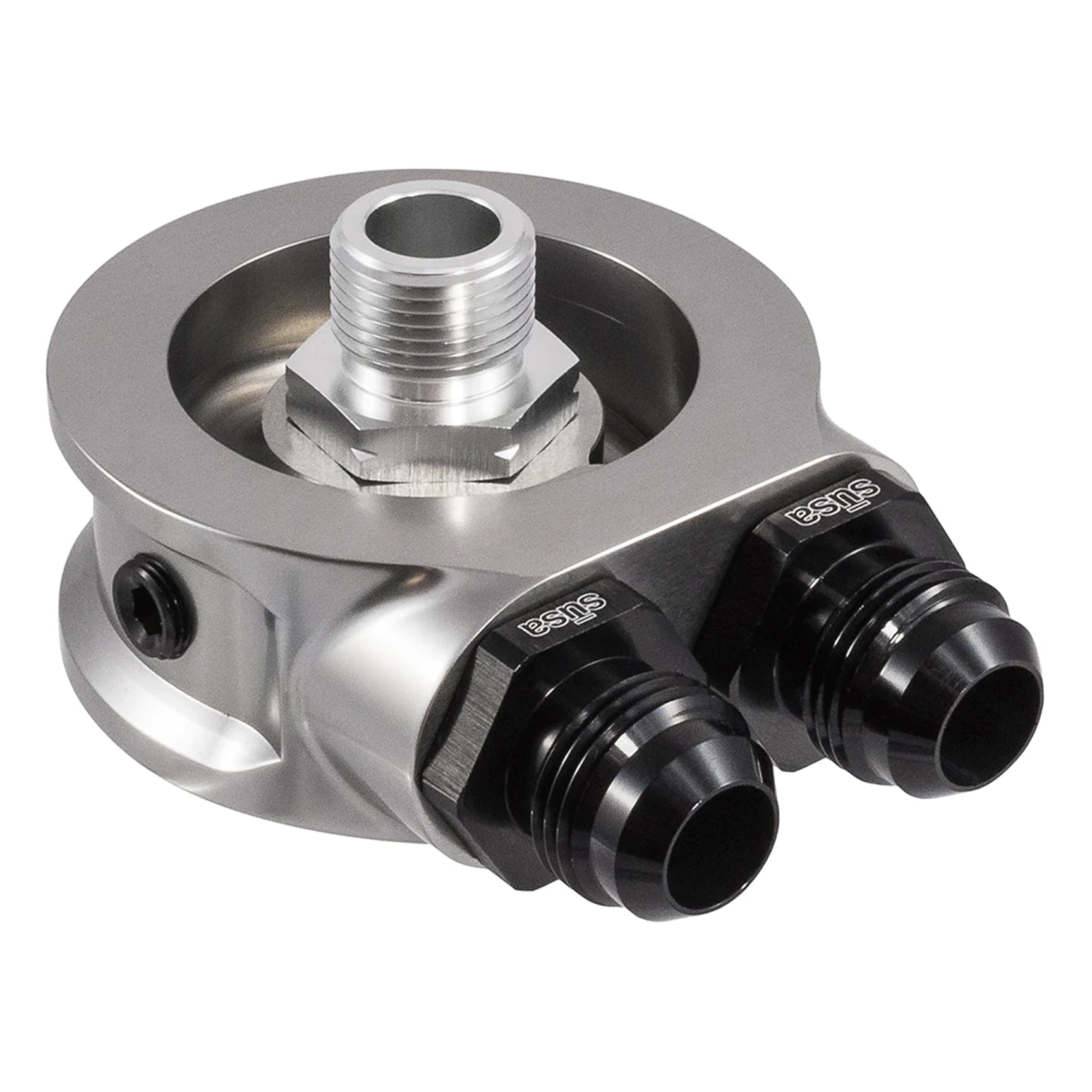 sūsa HyperFlow Billet Sandwich Oil Filter Adapter
The sūsa HyperFlow Billet Sandwich Oil Filter Adapter provides easy access to the oil supply for installing Setrab ProLine Oil Coolers.
Engineered for performance, reliability, and integration with the sūsa ProLine M22 adapter fitting system, the sandwich oil filter adapter is machined from billet aluminum with generous positive flow characteristics. Designed to direct oil through the oil cooler at all times, it is particularly suited to dedicated racing vehicles.
Includes 1/8"-27 NPT port and plug for optional installation of sending unit accessory gauge, e.g., sūsa Thermal Switch (thermal switches sold separately).
Sandwich oil filter adapters install between oil filter and oil filter landing for simple access of oil supply to install an oil cooler. For use with sūsa ProLine fittings and hose ends up to -12 size.
Setrab ProLine M22 ports for plumbing versatility with ProLine fitting system
1/8"-27 NPT port & plug for optional installation of gauge or sender
Quad-seal O-ring for positive seal against filter landing
Lightweight billet-aluminum construction with durable anodized finish
( *Please note: the 19-SP76 does not work with -12 or -16 AN adapters. It is not necessary or recommended to use these larger size lines on the pressure side of a wet-sump oiling circuit utilizing and intermediate size spin-on oil filter. )
Specifications
Description
Part Number
Filter nipple thread
Port thread
M20x1.5
ProLine M22x1.5
19-SP76-20-22
M22x1.5
ProLine M22x1.5
19-SP76-22-22
3/4-16
ProLine M22x1.5
19-SP76-34-22